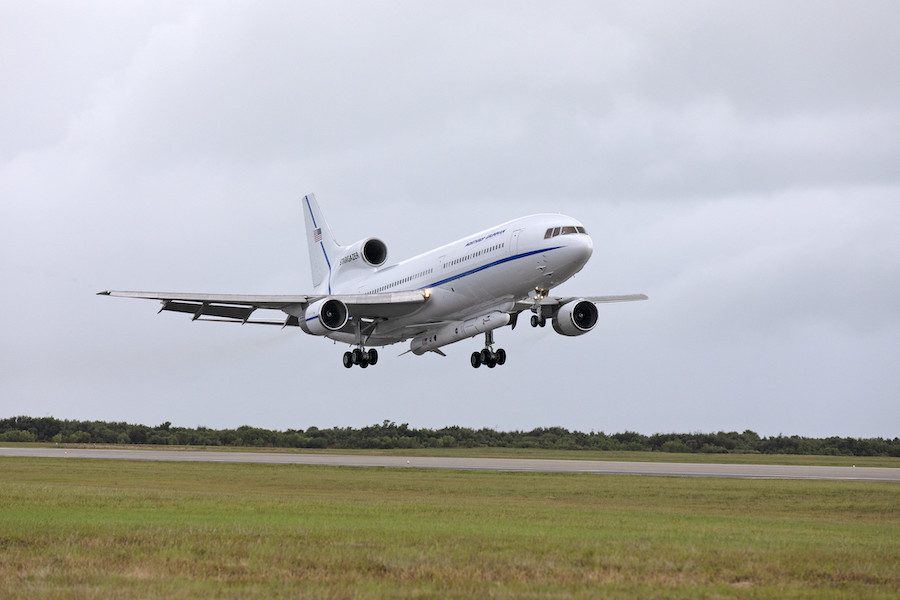 As of October 1st, a Northrop Grumman Pegasus XL rocket is back at Cape Canaveral after a cross-country ferry flight Tuesday under an L-1011 carrier jet, ready for final checkouts and a countdown dress rehearsal before an airborne launch off Florida's east coast Oct. 9 with NASA's Ionospheric Connection Explorer satellite.
The L-1011 carries jet, named "Stargazer," touched down at the Skid Strip runway at Cape Canaveral Air Force Station shortly before 5:30 p.m. EDT (2130 GMT) Tuesday after a nearly six-hour flight from Vandenberg Air Force Base, California, where teams readied the Pegasus rocket for flight.
Technicians mated the 634-pound (288-kilogram) ICON spacecraft to the Pegasus XL rocket Sept. 10, then encapsulated the satellite inside the launcher's payload shroud in a clean room at Vandenberg. Then ground teams transferred the 57-foot-long (17-meter) Pegasus XL rocket to the Vandenberg airfield for attachment underneath the L-1011 carrier plane.
The arrival of the Pegasus rocket at Cape Canaveral begins a week of final inspections, testing and a launch day dress rehearsal.